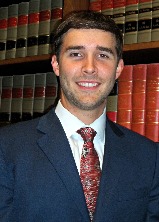 Lincoln W. Foster earned his undergraduate degree from the University of Kentucky in 2008, having graduated with distinction, Magna Cum Laude. He later graduated from the Mississippi College of Law in 2012 and was admitted to the Kentucky Bar Association following passage of the Kentucky Bar Examination
His law practice focus is on real estate, loan closings, probate and estate planning, as well as business development.
Lincoln is a lifelong resident of Christian County, Kentucky. He serves on the Board of Directors of the Christian County Chapter of the UK Alumni Association as well as the Executive Board of the New Kentucky Project, a statewide group organized to develop new and creative ways to improve Kentucky's economy and develop new leaders for the state and their respective communities. Lincoln also serves on the Board of Directors of the Hopkinsville Industrial Foundation and is involved in a variety of other community activities.